School Hours
8:25AM-2:45PM M, T, TH, F
8:25AM-1:45PM Wednesdays
Office Hours



Monday-Friday
7:55AM-3:45PM
Absences
A written note is needed within 48 hours of returning to school stating the cause of the absence.
SAVE THE DATE
8/8 PK and K Meet Your Teacher 5PM-6PM

8/9 8:00AM-9:00AM Meet Your Teacher: Fifth Grade Families

8/9 9:15AM-10:15AM Meet Your Teacher: First and Fourth Grade Families

8/9 10:30AM-11:30AM Meet Your Teacher: Second and Third Grade Families

8/10 First Day of School (Early Release)

8/10-12 Kindergarten Staggered Start

8/17 Kindergarten Parent Social at 8:30AM

8/19 PTO Back to School Bash
See link below and on the Registration Webpage for more information about Student Registration.
For extended Day information, please go to the Extended Day webpage.

REGISTER TO RECEIVE SCHOOL MESSENGER 
https://www.stjohns.k12.fl.us/schoolmessenger    
Designed for parents and guardians to hold messages for 30 days. Ability to select mode of broadcast to receive different message types and serves as a single place to view all messages. Phone numbers are derived from the District's Student Information Systems.
 Parents & Guardians must contact their school to change phone numbers and update any information.
Please remember to inform your teacher, Mrs. Sherwood, and Mrs. Goldsmith (if you attend extended day) of any transportation changes by 2pm each day (1pm on Wednesdays). No changes made after 2pm can be honored. This allows for ample time for communication and safety. Thank you ahead of time for your support of this policy.
FortifyFL is a website and app developed at the direction of the Florida Legislature. Any student, educator, parent or member of the public can report school safety concerns directly to law enforcement and school administrators anonymously and easily through the FortifyFL app or getfortifyfl.com.
This is just a reminder that anyone (parent, guardian, friend, neighbor, aunt, uncle) must have school access to attend an event at Hickory Creek, have lunch with a student and/or attend an awards assembly. If you have not already done so, please complete the School Access Form. The process for approval may take up to 4 weeks, so please fill out the application sooner than later for any guests that would like to have school access. Once the application is approved, school access will be valid for three years.
2021-2022 Instructional Materials Adoption for Mathematics UPDATE
On February 8, 2022, the St. Johns County School Board voted to approve the list of recommended resources for adoption for Math. View the final list of approved resources. Florida Statute allows parents or residents of the county to object to the adoption of a specific instructional material. If you would like to contest the adoption of the Math resources, you must complete the Reconsideration of Instructional Materials Request Form and submit it to the SJCSD Instructional Resources and Media Services Department no later than noon on March 10, 2022.
Please visit our Instructional Materials Adoption web page to:
Access the math resources that are being considered for adoption.
Learn more about the policies and procedures for textbook adoption.
B.E.S.T. Standards Presentation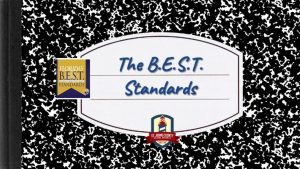 The purpose of the video is to provide parents and community members with information about the new B.E.S.T. Standards for English Language Arts and math. The video also explains the timeline for the implementation of the new standards.
View the B.E.S.T. Standards Presentation
Please Remember Hickory Creek Elementary is a Peanut Allergy Awareness School