Welcome to Hickory Creek Elementary
We encourage all of our Hawks to read over the summer.  All participants who read (non-readers may have books read to them) at least 10 level-appropriate books will be invited to attend an ice cream social and book swap when school is back in session.  Participants who read at least 15 books will also have their names entered into a drawing for Yobe gift cards.
This year, we have also included a list of 100 ways to read.  We hope these fun suggestions will help keep summer reading exciting and motivate our students to read all summer long!!
---
***Report Cards***
Report cards can now be accessed on HAC.   To obtain a hard copy of report cards, someone will be available at the front office on June 6th and June 13th from 9 am – 3 pm.  If you need to pick up report cards on a different date, please call the school beforehand to ensure that someone will be here to distribute.  Thank you!
---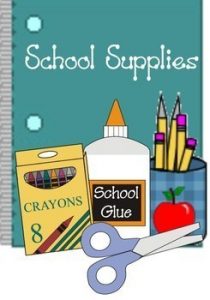 Pre-order your school supplies through 1st Day School Supplies by June 15th and they will be delivered to the school in time for "Meet the Teacher" orientation.
https://www.1stdayschoolsupplies.com/
---
Home Access Center (HAC)
A helpful tool for accessing your child's progress is Home Access Center (HAC).  This will be the method for accessing Interims for grades 3-5 this year.  Please visit http://www.stjohns.k12.fl.us/hac/ for more information.

---
School Registration Information

Please feel free to register at your convenience during regular office hours.
For Students Entering Kindergarten in August 2018
Kindergarten students: To be eligible for public Kindergarten in St. Johns County, children must be 5 years old on or before September 1, 2018 and must reside in St. Johns County. Parents must register children at the school where they are zoned for the 2018-2019 school year. The following documentation below is required to complete the registration process.
Call Mrs. Swartzwelder at 547-7450 to make an appointment for registration, or stop by the school office during school hours for more information.
-Child's certified birth certificate
-Current physical (dated within one year of the start of school)
-Florida Immunization Record (680 Form)
-Proof of residency.  For more information, see Residency and Guardianship Details
-Registering parent's driver's license or ID card
-Social Security Number (providing this information is optional)
If you have any questions regarding registration requirements, please contact Sherry Swartzwelder at
(904) 547-7450.
SJCSD School Enrollment Information
We look forward to meeting you and are excited to welcome you and your student to the HCES Family!
---
SCHOOL ACCESS
Please help us to provide a safe and secure facility for our students and staff, please complete a School Access Form. (Cleared access is granted for a total of 3 years. So, if you completed a form within the last couple of years, your application will still be valid. However, if you sign-in and the computer does not recognize you, please re-submit a completed form. It may take 2-6 weeks for the application process. All information must be completed on the form in order for the form to be processed).
District policy: "Any person passing beyond the front office area must show a valid driver's license or state identification card."
Please make sure to bring your identification with you when entering our school to go beyond the front desk or pick-up a child.
All visitors signing in are checked against a national sexual offender database.
*Please note: If you plan to attend any field trip or on school campus event this year with your child's class, you will need to have a cleared school access record on file at least 6 weeks before the activity.
Master Calendar 2019-2020
We need parent volunteers to serve on the Master Calendar Committee. Currently, the 2018-2019 Master Calendar is already approved and listed on the District's website. We always want input from parents.
The Committee:
Will meet approximately four (4) or five (5) times
Meetings last one (1) hour
All meetings will take place in the afternoon at approximately 4:00pm-5:00pm.
All meetings will take place in St. Augustine at the District office 40 Orange Street or First Coast Technical College.
The chairperson conducting all meetings will be Cathy Hutchins, Associate Superintendent of Human Resources.
A recommendation from the committee will be presented to the Superintendent and then the School Board for approval.
---
 Please Remember
Hickory Creek Elementary
is a Peanut Allergy Awareness School